Top Picks: Easy decorating, 'Birds of the Gods,' and 'Colstrip Montana'
An iTunes app for wall art, birds of paradise in a PBS special 'Birds of the Gods,' 'Colstrip Montana,' a book that changed landscape photography, and more recommendations.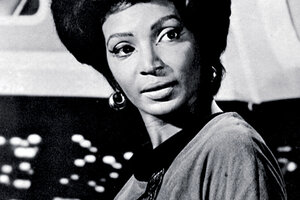 PBS
Tales of TV's early days
Ever wonder what Albert Einstein's favorite TV show was or what series featured the small screen's first interracial kiss? Tune in to the second season of "Pioneers of Television," which debuts on PBS Jan. 18 at 8 p.m. Kelsey Grammer narrates this four-part look at major genres: the western, crime drama, science fiction, and local kids' TV. A parade of well-known and loved performers from the early decades share stories of their now-famous shows, from Angie Dickinson to James Garner, William Shatner, Martin Landau, and Fess Parker.
A violinist's other virtuoso act
Violinist Isaac Stern is a towering figure of 20th-century music, but he was also a champion of New York City's Carnegie Hall. Sony Masterworks has released "Isaac Stern: Keeping the Doors Open," an homage to the half century of untiring work by the musician and his friends to update and maintain the hall. The CD has memorable performances from throughout the decades, including Mendelssohn's Violin Concerto in E Minor, Op. 64, with Stern, Leonard Bernstein, and the Israel Philharmonic Orchestra.
Hang the art
---