Top Picks: Tips for going green, Coachella, and BAFTA
An online guide to green living, the Coachella music festival, British academy awards, a documentary on Eliot Spitzer, and more recommendations.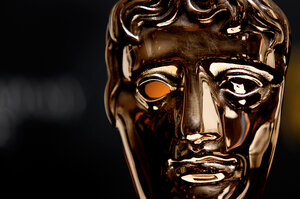 Joel Ryan /AP
Smartly green
At last! That spur you needed to dust off the old bicycle and switch to recycled toilet paper among other things. PracticallyGreen.com, a free service and online community, helps members be more eco-friendly and offers a five-minute quiz to assess your green credentials. The results are then instantly wrapped into a personalized plan to track progress as you green your habits and home – saving you energy in more ways than one.
Lineup of favorites
Coachella, the annual music festival in Indio, Calif., April 15-17, has just announced its 2011 lineup. Headlining in the desert are Kanye West, Kings of Leon, Cee Lo Green, Arcade Fire, Ellie Goulding, Jimmy Eat World, and more. Known for integrating lively installation art and sculptures, the festival also has an emphasis on sustainability (including lifetime festival passes for a few fortunate carpoolers!).
Brit awards bash
---