The art of the fix-it
Members of the Fixers' Collective help New Yorkers repair their broken stuff at no charge, for the sheer joy of it.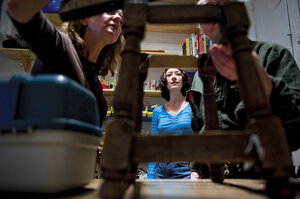 Ann Hermes/Staff
The first object is a blender. As blenders go, this one is tarnished, but not particularly old, and for a few long and silent and tense moments, Vincent Lai rolls the thing around in his hands, shaking the base, tugging meditatively on the power cord, and finally squinting down into the internal drive, like a veteran marksman sizing up a target.
"It was the ice," says Nancy Sampson, a bright-eyed local artist and the bereaved owner of the broken blender.
"The ice?" Mr. Lai raises one eyebrow. He is wearing high-waisted stone-washed jeans and a dark work shirt. As he talks, he sifts through the top drawer of an open toolbox.
"Yeah, I put some ice in there, and screeeeeeeeech!" – Ms. Sampson claps her hands together, and Lai jumps – "the thing just broke."
"I think what we really need is a needle nose," says Joe Holdner. Mr. Holdner, who is shorter than Lai and seems more anxious, would clearly prefer to cut the small talk, crack open the blender, and get to work.
"No," Lai says. "We need a wrench; 3/8th-inch, probably."
"How about 5/16th-inch?"
"I have that precision stuff in the car."
"It seems like a well-made blender ...," Holdner laments.
"My poor blender," Sampson says, and bows her head.
"Don't worry," says Holdner, who wears his graying hair pulled back tight in a ponytail. "Sometimes there's a magic aura in here, where things just get fixed."
"Sometimes not," Lai says.
"Shhhhh," Holdner says.
They both burst out laughing.
Repairing for the joy of it
---