Saving the stories
Qatar's disappearing oral tradition has spawned projects to record the storytellers.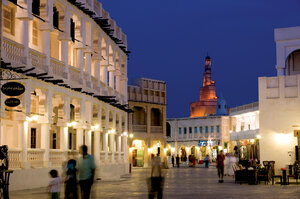 Newscom
Growing up, Kholoud Saleh never heard the story of the donkey and the grain. Or the one about the magic fish that helped a lonely stepdaughter escape her evil stepmother. "The older people, they were told [these stories]," she says. "But us, no."
Ms. Saleh is part of the first generation of Qataris to grow up around the oil boom, which has brought unprecedented money and a flood of foreigners into this Arab emirate. Qatar now boasts one of the highest per capita gross domestic products in the world.
But the boom has also dramatically changed the country's complexion – native Qataris make up only 15 percent of the 1.6 million residents – and way of life. Qatar "is not as it used to be," Saleh says. When her parents were younger, they spent hours listening to elders tell stories. "Now, we don't have that time to just talk."
As a result, many fear the country's rich folklore and storytelling tradition is disappearing forever. Saleh and others are trying to change that. Over the past six months, a group of students and professors has begun to record and transcribe folklore and oral histories told by Qatari elders. Eventually, they will be compiled into the country's first-ever combined English and Arabic folklore anthology.
The project is being led by Autumn Watts, who runs the writing center at Weill Cornell Medical College in Qatar. Ms. Watts has long been fascinated by the ways [Djinn are] incorporated into story-telling. The idea for this project came to her while she was researching genies in Arabic literature. She searched and searched for an anthology on Qatari folklore before concluding none existed in English.
---