Camp connect
Separated by foster care, brothers and sisters bond here.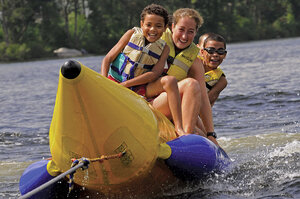 Courtesy of Camp to Belong
Ashley Figueroa will never forget the day in 1995 when she and her siblings were taken away from their mother and placed in foster care.
"They told us we were going to McDonald's," she says. "We were all crying. What kid doesn't want a Happy Meal? But we didn't get a Happy Meal."
Their mother struggled with substance abuse and lived with an abusive boyfriend. Their father was absent.
The children lived in a series of foster and family-based kinship homes both in their hometown of Lowell, Mass., and as far away as Ohio and New York.
Then three years ago, seven of the 10 kids came to Camp to Belong in Hinsdale, Mass. "We lost contact for six or seven years," says the bubbly Ashley, now 20. "Camp to Belong brought us together."
"We had never been to a place like that before," says her brother, Jonathan, 13. "We had never been so happy."
Now in its 17th year, Camp to Belong (CTB) has a mission to reunite siblings ages 8 to 20 separated in foster homes and other out-of-home care situations. The camp experience changes lives.
Lynn Price, founder of the camp, was herself once disconnected from a sibling due to foster care. "I didn't know I had a sister until I was 8 years old," she says. But as she began working with the homeless and children in foster care, she started to see how brothers and sisters were losing track of each other. "I realized they were going to miss out on childhood memories."
---