Designing for dignity
Moshe Safdie's success doesn't distract from his desire to create habitats that fit cities – and honor the individual.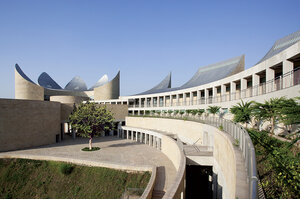 Courtesy of Ram Rahman/Safdie Architects
It may be the Chinese Year of the Rabbit, but 2011 is a bullish year for world-renowned architect Moshe Safdie, whose audacious creations are more jaw-dropping than flop-eared. His stunning resort, Marina Bay Sands, is already inspiring gasps in Singapore, while the Kauffman Center for the Performing Arts in Kansas City, Mo., and the United States Institute of Peace headquarters in Washington, D.C., are slated to open in September. A huge, multipavilioned Sikh museum, the Khalsa Heritage Center, debuts this fall in Punjab, India, and Crystal Bridges Museum of American Art opens its doors in Bentonville, Ark., Nov. 11.
---