Top Picks: Lonely Planet apps, cookbook for apple lovers, new Daryl Hall CD and more
Lonely Planet Travel Guides now on iTunes, new cookbook perfect for apple pickers, Daryl Hall releases new solo album, and more top picks.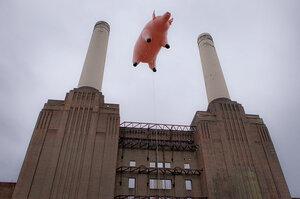 Joel Ryan/AP
Soul man
Still maintaining his signature soulful style, legendary singer Daryl Hall released Laughing Down Crying on Sept. 27, his fifth solo album. This new offering feels fresh and current while still giving a nod to his Philly roots. Hall is anything but "Out of Touch."
Shoot to the Moon
We Choose The Moon (wechoosethemoon.org), a website created by the John F. Kennedy Presidential Library and Museum to honor the 40th anniversary of the Apollo 11 landing on the moon, lets you experience the trip every step of the way. Beautiful graphics, audio, and a transcript of communication between Mission Control and the astronauts during the journey bring the historic journey to life.
Pigs fly again
If you love you some Pink Floyd, October is definitely your month. Beginning with the megasmash Dark Side of the Moon, all 14 Pink Floyd albums will be rolled out in regalia, separately, or as six CD/DVD boxed sets, including remastered CDs, with loads of outtakes and live performances in both audio and video. All 14 albums will be available on high-quality vinyl as well. Shine on.
Guten app!
Lonely Planet travel books are well loved and relied upon by many of us out there in the great unknown. Their phrasebooks are handy and intuitive. If only they could talk to us! Now they can. The Lonely Planet Travel Guides are now available on iTunes as apps for your iPhone or iPad, with maps, walking tours, top sites, and audible phrasebooks.
---