Roots and resilience
At a century-old North Carolina farm, a legacy of unity and adaptation endures.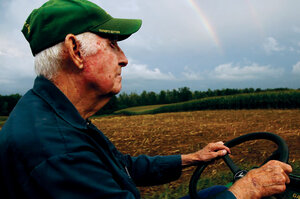 Bridgette Auger / Special to the Christian Science Monitor
While much of America's cultural compass is currently guided by Twitter feeds, entertainment news, and estranged families, the Coltrane family's values and mores have changed little in the past two centuries. They remain steadfast in their responsibility to their family, community, and land.
Now, like millions of Americans across the country, they are presented with unforeseen economic challenges. But, the Coltranes believe their long tradition of working together, adapting to unexpected challenges, and passing down their knowledge to the next generation will pull them through.
"This land has been in our family for over 200 years," says Branson Col­trane with a thick Southern drawl, sitting on the tailgate of his truck in Pleasant Garden, N.C. His weathered face softens as his piercing blue eyes look intently over the cornfields, tin barns, John Deere tractors, and the hundreds of mooing cows dotting the fields.
"That is what gives us this love for farming," Branson says. "It's the struggles our family has faced to keep this land. Every dollar I've ever made has gone back into this farm. If we want to survive, we have to keep expanding."
Since he and his dad, Roy, started the dairy with just a few cows in 1956, the farm has grown to 800 acres and 1,200 head of cattle. Unfortunately, the Coltranes are not immune to the recent economic turmoil, and when the price of milk crashed in 2009, they were forced to borrow money to cover their operating expenses, something they had worked their entire lives to avoid. While Branson's face shows the strain of his new liability, he believes the values his father ingrained in him will pull the family through. He knows this isn't the first time the Coltranes have faced hard times.
Working together
"In the Great Depression days, life was about surviving," says Roy Coltrane, wearing faded overalls and a green flannel shirt. He sits at the kitchen table in the quaint house he built for his wife, Margaret, on a winding country road in Pleasant Garden more than 70 years ago. Margaret sits next to Roy, her fingers laced with his.
---