Top Picks: The return of Bob Seger, New York City Ballet's Nutcracker, and more
A Reelz miniseries ponders if a woman ever became Pope, the band Crooked Still wins over listeners with a rich folk sound, James Lee Burke's new novel mixes violence and wonder, and more top picks.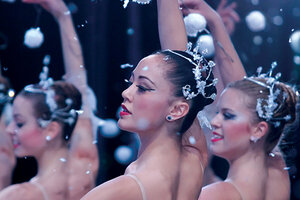 Blaine Truitt Covert
MAD Mag cartoonist
Jack Davis: Drawing American Pop Culture – A Career Retrospective (Fantagraphics) is a wonderful tribute to the prolific artist known mostly for his MAD Magazine covers and cartoons.
The oversize book's full-color illustrations include MAD art as well as Davis's movie poster, TV Guide cover, Time cover, advertising, humor, comic book, and caricature art.
An amazing lifetime of work.
Seger Sighting
A rock icon is back among us. In addition to a triumphant US tour, a new greatest hits CD package, Bob Seger & The Silver Bullet Band Ultimate Hits: Rock and Roll Never Forgets, has arrived in record stores and on digital download sites. All of Seger's classic rock anthems are included in remastered glory: "Night Moves," "Mainstreet," "Old Time Rock and Roll," "Against the Wind," "Ramblin' Gamblin' Man," and just in time for the holidays, "Little Drummer Boy" – 26 tracks in all. And every hit is belted out in that voice, the one that brought you "Like a Rock."
Burke and the Borderlands
Brutal crimes abound in the Texas border town presided over by Sheriff Hackberry Holland, who returns in Feast Day of Fools, a dark novel by James Lee Burke. Best known for his Cajun detective series, Burke handles the bloody borderlands with equal aplomb, melding natural wonder with ample violence. Burke's tale bogs down on occasion, overstuffed with plot threads. Still, it's hard to quibble about a writer of such intensity.
---