Geek wisdom goes mainstream
Hard-core nerds impart teachings of 'Star Wars' and Tolkien.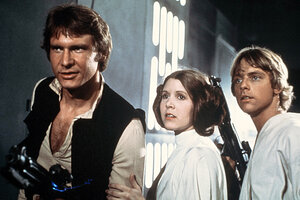 20th Century-Fox Film Corporation/AP/File
College, like many rites of passage in America, is all about wandering. So when the daughter of some friends headed off to college this fall, they told her before she embarked on her journey, "Not all those who wander are lost."
For those not in the know, that line comes from a poem in J.R.R. Tolkien's "The Lord of the Rings." Good advice, and not just for hobbits.
The fact that geek culture has stormed the gates of Castle Mainstream is old news. Yet it's increasingly clear that nerdy passions – fantasy books, science-fiction movies, comic books, role-playing games – offer more than good times and camaraderie. They teach life lessons – guidance for a generation of nerds raised in a less conventional, DIY, "choose your own spiritual adventure" world, nerds who are now raising Geek Crop 2.0.
This reporter is one of them. In my 1970s upbringing, my post-hippie parents never took me to church. I tried Boy Scouts and 4-H, but these groups felt old-fashioned, too sincere. Then, in 1977, as a 10-year-old I saw "Star Wars." Suddenly, the idea that a "Force" surrounds and binds us seemed as plausible a theory for what glued the universe together as any religious teaching.
---