Top Picks: The life of Charles and Ray Eames, the best travel destinations for 2012, and more
'The Help' is a worthy adaptation of a powerful book, NPR's hilarious 'Wait Wait ... Don't Tell Me!' looks back at the year's top stories, 'Christmas at St. Olaf' on PBS celebrates the 100th anniversary of a beautiful musical tribute, and more top picks.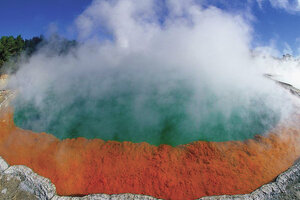 nationalgeographic.com
A good story, well told
Based on the big 2009 bestseller by Kathryn Stockett, The Help winds a tale of black maids and their white mistresses in the starkly racist South of the 1960s. The intense emotional connection between white children and the maids who raised them, and these same children's later disdain, is played out against the backdrop of a burgeoning civil rights movement. There are terrific performances from Viola Davis and Octavia Spencer, whose presence Monitor critic Peter Rainer describes as "ennobling without falsifying that nobility with sentimentality."
Footprints in the snow
Christmas in Yellowstone, on PBS Christmas Day, celebrates the season in our nation's most iconic national park. Part of the "Nature" series, this is a reprise of one of the show's most elegant and visually rich documentaries.
Rejoice!
Christmas at St. Olaf, on PBS Dec. 20, presents the five college choirs of this Northfield, Minn., college in a soaring musical celebration of the Christ story. The hundreds of voices joined together to mark the 100th anniversary of this annual tradition give the event immense power and joy.
Trip into 2012
---