Origins of America's favorite Christmas carols
An intrepid researcher tracks down the stories behind America's best-loved Christmas carols.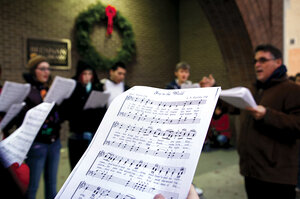 Matthew Dae Smith/The State Journal/AP
Armed with a notebook, a camera, a video camera, and an insatiable hunger to learn even more about some of America's most beloved Christmas carols, Ronald Clancy set out in October 2008 to visit their widely scattered places of origin.
Author of the 2006 "Best-Loved Christmas Carols: The Stories Behind Twenty-five Yuletide Favorites," Mr. Clancy has spent a lifetime tracking down their back stories. "When you get a sense of who the composer is...," he says, "it makes [the carol] so much more personal."
From his home state of New Jersey he traveled as far south as Georgia, westward to Pennsylvania and Michigan, and northeast to New York and Massachusetts.
Several weeks and some 4,000 miles later, after visiting numerous churches, graveyards, a town square, and crisscrossing Harvard University's campus in Cambridge, Mass., Clancy added greatly to his collection of fascinating facts about traditional Christmas songs. He found one with ties to a famous American poet, one with a connection to President Lincoln, and another inspired by the Cuban Missile Crisis.
Here are nine back stories from a series of videos he has begun to post on christmasclassics.com.
In the Deep South, of all places, Clancy visited a site tightly hitched to the legendary carol verse:
Dashing through the snow
In a one-horse open sleigh.
---