Top Picks: A radio show about visual design, Wagner's Ring Cycle, and more
Traffic app Waze warns you of roadblocks ahead, pianist and composer David Greilsammer performs classic and contemporary compositions, and more.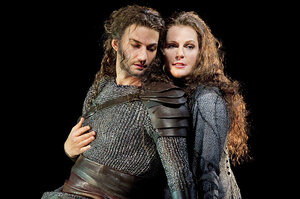 PBS
Jazz Progression
From the first track, a lovely rendition of the South African composer Abdullah Ibrahim's "Manenberg," Ernest Ranglin's Avila takes us on a tour of global jazz and all the many influences of Ranglin's long career, from reggae to Afro-pop to 1970s urban American jazz. There's nothing rushed or showy about his playing, so this is a great album for the world-music or jazz aficionado who just wants to chill. Ranglin's solos still have that creamy, rhythmic quality they had when he played guitar on Bob Marley's first albums. "Avila" is a wonderful ride.
storytelling for design lovers
The pitch for 99 Percent Invisible sounds foolish: It's a radio show about visual design. Yet, somehow, host Roman Mars carries his audience into seeing through hearing. His audio storytelling rolls through the history of great buildings, the philosophy behind art movements, and the beauty of overlooked objects. The biweekly show enters its third season in September. It's available as a podcast on iTunes or at 99percentinvisible.org.
Baroque past and present
David Greilsammer's new CD, Baroque Conversations, features the pianist and composer performing Rameau, Couperin, and other Baroque masters interspersed with contemporary compositions – echoing and commenting on the works from an earlier era. This musical conversation between styles of former eras and current ones is a unique addition to any library.
---