Top Picks: BBC America's murder mystery 'Broadchurch,' CDs from world music label Putumayo, and more
The iPad app The Guardian of Imagination lets kids give a world its color, the Starz show 'The White Queen' tracks the players in the wars between the houses of York and Lancaster, and more top picks.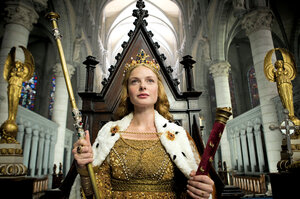 Starz
Sculpture of sound
Don't miss a new chance to see a very serious but fully delightful look at music from the dozens of career musicians who speak from their hearts and souls about their art. Music From The Inside Out – a documentary collaboration between musicians of The Philadelphia Orchestra and Academy Award-nominated filmmaker Daniel Anker – was filmed over five years on three continents. It originally opened in 2005 to critical raves, and now is being digitally rereleased in early August by Cinedigm. It will be available on iTunes, Amazon, Vudu, Xbox, Playstation, and Google/YouTube. The soundtrack is an eclectic mix of classical, jazz, bluegrass, salsa, and world music. For more info, visit www.MFTIO.com.
Imagine a world
There was once a world that had lost all its color because its people stopped imagining. Young readers can help return this land to its former glory through the iPhone and iPad app The Guardian of Imagination. As you flip through this "storybook," think creatively. Playing with the interactive illustrations can reveal secrets, games, coloring pages, and the key to unlock the next story.
---