Fall TV Preview: 'Hart of Dixie,' starring Rachel Bilson
(Read article summary)
Rachel Bilson will star as Zoe Hart in CW's 'Hart of Dixie' this fall. With plenty of promising love interests and drama, 'Hart of Dixie' should be everything expected from a CW show.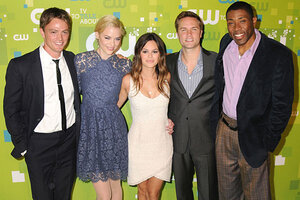 Johns PKI /Splash News/Newscom
You've seen the commercials. You've heard the hype. Now there's only one thing you want to know: Which of the new fall shows are worth watching and which should be avoided at all costs? In this continuing series, we give you the scoop on some of the most highly-anticipated shows of the season, with today's focus being HART OF DIXIE, the CW's version of Sweet Home EVERWOODAlabama
The Boilerplate: Since these pilot presentations may go through numerous rewrites and casting changes prior to premiere, this by no means should be considered an official review. Rather a preview of what one can expect come Fall.
The Plot: Fast-talking New Yorker and brand new doctor Zoe Hart has it all figured out – after graduating top of her class from medical school, she'll follow in her father's footsteps and become a cardio-thoracic surgeon. But when her dreams fall apart, Zoe decides to accept an offer from a stranger, Dr. Harley Wilkes, to work with him at his small practice in Bluebell, Alabama. Zoe arrives in this small Gulf Coast town only to find that Harley has passed away and left his half of the medical practice to her in his will. She quickly finds that Southern hospitality isn't always so hospitable – the other doctor in town, Brick Breeland, is less than pleased to be sharing the practice with this young outsider, and his daughter, Lemon, is a Southern belle whose sweet disposition turns sour when she meets Zoe. Zoe's only allies are the mayor, former football star Lavon Hayes, her bad-boy neighbor Wade Kinsella, and handsome lawyer George Tucker – who just happens to be Lemon's fiance. Zoe is out of her element and ready to pack her bags, but a surprise visit by her snobby New York mother leads to Zoe's decision to stay in Bluebell for a while, discovering small-town life and a side of herself she hadn't known was there.
---
Follow Stories Like This
Get the Monitor stories you care about delivered to your inbox.