'Degas and the Nude' reveals a master of the human form
(Read article summary)
In its only US venue, the exhibition takes a wide-ranging look at the artist's complex and contradictory work, which defies easy interpretation.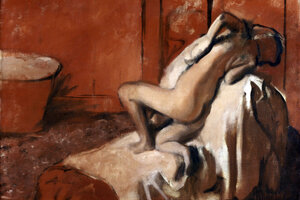 Philadelphia Museum of Art: Purchased with funds from the estate of George D. Widener, 1980. Courtesy of the Philadelphia Museum of Art. Courtesy, Museum of Fine Arts, Boston.
The nude human figure has been the subject of artists for thousands of years. Their work is sometimes erotic, sometimes beautiful or ugly, and sometimes uncomfortable, as its subject is being literally "laid bare."
"Degas and the Nude," a major exhibition opening at Boston's Museum of Fine Arts (MFA) Oct. 9, offers the most comprehensive look ever at the nudes of French artist Edgar Degas (1834-1917), know principally for his depictions of ballet dancers and race track scenes.
But Degas also had a lifelong interest in the nude human form, taking a special interest in showing contemporary women bathing or grooming. "Degas is the master of the nude in the 19th century," declares George Shackelford, the MFA's chair of the art of Europe and curator of modern art, who is also co-curator of the exhibition.
While nudes were a frequent subject for Degas, he took a specific approach. "Degas was an omniscient viewer, looking into the nudes' private world where poses were both natural and acrobatic," explains the exhibition's wall text. "Degas almost never showed his bathers except from behind. Perhaps he did not want to show their faces, to create identifiable individuals.... Maybe he wanted viewers to understand the figures as bodies engaged in daily tasks common to everyone – combing their hair, washing, drying their bodies."
Of the approximately 165 works, 145 are by Degas himself, created over more than 50 years. They show his skill in a wide variety of media, including paintings, pastels, drawings, monotypes, etchings, lithographs, and sculptures. Many of the works can be seen in the United States for the first time.
---