'The Walking Dead' premiere gets season 2 off to a solid start
(Read article summary)
'The Walking Dead' season 2 premiere comes after behind-the-scenes drama ended with the departure of showrunner Frank Darabont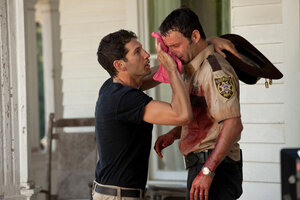 Gene Page/HONS/AMC/AP
Fans are undoubtedly excited for the start of The Walking Dead season 2, but there also many questions handing over this season, in light of showrunner Frank Darabont being fired from the series. Darabont was the driving force behind the show, and a major reason why season one of The Walking Dead was a hit. While it remains to be seen how the show will fare without Darabont influencing future episodes, fans of the acclaimed director can rest comfortably in the knowledge that he crafted the first part of season 2.
So, is The Walking Dead season 2 premiere episode, "What Lies Ahead" a satisfying return to the bleak world of Robert Kirkman's acclaimed comic book?
Short answer: This episode showed Darabont and the cast at their best.
When last we left the survivors of The Walking Dead, they had fled the Center for Disease Control in Atlanta, after a discouraged scientist and a few dispirited survivors chose to end their lives, rather than face the zombie apocalypse. As season 2 opens, the survivors are still on the run and hoping to find salvation. But where does salvation reside in hell – and how does a world of savagery, brutality and death change a person? These are the hard questions that face Rick Grimes and his companions in season 2.
Review (Spoilers)
"What Lies Ahead" is easily the best episode of The Walking Dead since the pilot episode (which was also crafted by Darabont), and it demonstrated the incredible potential this show has. In one episode we got terror, suspense, mystery, gore, drama, shock, and even some elation. Best of all, every minute of the premiere qualified as genuinely compelling TV.
---