'Margin Call' trailer hints at a taut Wall Street thriller
(Read article summary)
The movie about dealings on Wall Street will have to make tedious tasks interesting to watch, but it looks like a thriller with mainstream appeal.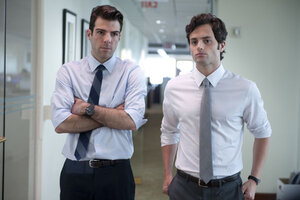 JOJO WHILDEN/HONS/Roadside Attractions/AP
Films like Inside Job reaped in loads of critical accolades, but failed to light it up at the box office. That's pretty understandable, since spending two hours watching an in-depth examination of the 2008 global economic crisis probably isn't something most people want to do.
Margin Call aims to have its cake and eat it too, in that regard, by offering a thoughtful examination of the lead-in to Wall Street's most recent financial collapse – as filtered through the lens of a taut thriller with more mainstream appeal.
The setup for Margin Call is pretty straightforward: it chronicles the efforts of a powerful investment bank to avoid disaster when they get wind of the impending financial crisis, over a 24-hour period of time. Members of said institution are played by familiar (and respected) faces like Kevin Spacey, Paul Bettany, Jeremy Irons, Zachary Quinto, Demi Moore, and Stanley Tucci, among others.
J.C. Chandor made his feature-length writing and directorial debut with Margin Call, which went over well at the 2011 Sundance Film Festival and was nominated for the Golden Bear award earlier this year, at the Berlin International Film Festival. So, armed with a star-studded cast, positive early buzz, and provocative subject matter, can Chandor deliver the goods?
---