'Three Musketeers' movie has lots of action but not much substance
(Read article summary)
'The Three Musketeers' is a fun over-the-top spectacle, but don't look for anything more.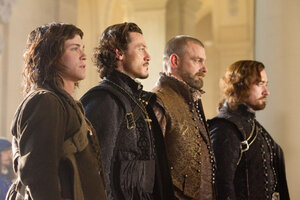 Itar-Tass Photos/Newscom
It seems that the tale of The Three Musketeers must be re-told on film at least once every generation. This 2011 re-imaging of Alexandre Dumas' legendary story comes our way in an action-stuffed 3D package, courtesy of Resident Evil director, Paul W.S. Anderson.
Those who know of Anderson's style of filmmaking already know what to expect from this film; for those unfamiliar, here's a quick description: over-the-top action, weak scripts, and a sense that the cast of actors have their tongues firmly planted against their cheeks. Three Musketeers proudly continues this tradition.
This modern version tweaks Dumas' tale of honor, espionage and sword-duels aplenty into a 3D spectacle featuring airships, Mission: Impossible-style capers (complete with martial arts acrobatics), and Milady de Winter (Milla Jovovich) transformed from a conniving spy into a conniving spy doing Kung Fu in a corset.
You can probably decide from that description above if this movie is for you or not. But I digress.
---