'In Living Color' will come back to television with two specials
(Read article summary)
If the specials in spring 2012 do well, the series could make a full-time comeback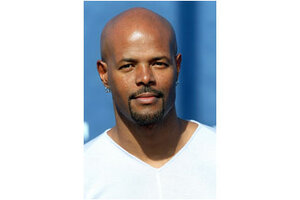 Mark Liley/ZUMAPRESS/Newscom
In Living Color, Keenen Ivory Wayans' answer to Saturday Night Live, is getting the reboot treatment from FOX. The network intends to re-launch the series, should the two planned half-hour specials prove to be a success.
The series - which made household name out of several comedians like Jim Carrey, David Alan Grier and Academy Award-winning actor Jamie Foxx - also launched the careers of Wayans' siblings: Damon, Shawn, Kim and eventual G.I. Joe star, Marlon.
In Living Color also introduced the world to singer, actress and American Idol judge Jennifer Lopez, as one of the show's "Fly Girls."
In the time it was on, In Living Color left an indelible mark on mainstream pop culture with its unrepentant brand of stereotype-skewering humor, which frequently found the show testing the limits of mid-1990s television censors. In addition to a multitude of one-off skits, the program also produced a number of classic recurring characters and skits, such as Damon Wayans' Homey D. Clown, Handi Man and Head Detective; Jim Carrey's Fire Marshall Bill; and, of course, flamboyant critics Blaine Edwards and Antoine Merriweather (Damon Wayans and David Alan Grier, respectively). Those latter skits - Men on Film, Men on Books, Men on Football, etc. – also popularized the catch phrase "Hated it!" (typically reserved for anything too focused on females).
---