'Alvin and the Chipmunks: Chip-Wrecked' trailer shows the movie will be a hit with kids
(Read article summary)
'Alvin and the Chipmunks: Chip-Wrecked' has a trailer that shows kids will like the movie, if not some adults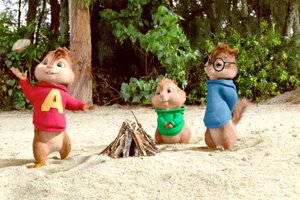 Courtesy Twentieth Century Fox/HONS/AP
This winter marks the arrival of a third installment, Alvin & the Chipmunks: Chip-Wrecked. Surprisingly enough, even the teaser trailer for the movie seems to be aware of how most adult moviegoers are going to react when they watch it (re: not well).
Like previous Alvin & the Chipmunk flicks, Chip-Wrecked features Jason Lee as the eternally flustered Dave (the human) and celebrities like Justin Long, Jesse McCartney, Matthew Gray Gubler, Amy Poehler, Anna Faris, and Christiana Applegate as the voices of the Chipmunks and Chipettes, respectively. Not that it matters, though, seeing how their voices are altered beyond recognition in order to reach that familiar high-pitch known as a "chipmunk voice."
Chip-Wrecked was scripted by the writers behind Alvin & the Chipmunks: The Squeakquel and directed by Mike Mitchell, the man responsible for films like Deuce Bigalow: Male Gigolo, Surviving Christmas, and Shrek Forever After. But does any of that information really shock you?
---