HBO cancels shows including 'Hung,' 'Bored to Death'
(Read article summary)
HBO cancels shows to make way for new programming.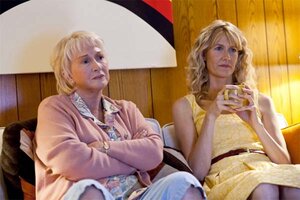 Prashant Gupta/HONS/HBO/AP
With a loaded production schedule and several potential new series in the works, pay-cable network HBO has cleaned house by unceremoniously pulling Bored to Death, Hung and How to Make it in America, while at the same time renewing the Laura Dern-led Enlightened, in the wake of its two Golden Globe nominations.
Sadly, the swift termination of these shows leaves the creators no time to accurately wrap up their respective storylines – which in the case of Hung and Bored to Death, ended with some pretty heavy questions waiting for answers. However, as fans of Deadwood, Carnivale and John from Cincinnati can attest: sometimes that's the way the cookie crumbles.
Realistically, though, ratings were a problem. Hung, starring Thomas Jane (The Punisher, The Mist), Rebecca Creskoff (Justified) and Anne Heche (Rampart) was the most watched of the three, and yet it suffered a ratings drop of nearly 50 percent from the season prior. And even though Jane landed his second Golden Globe nomination for his role in the series, it clearly wasn't enough for HBO.
---