'The Girl with the Dragon Tattoo' sequel is still on track, says Sony
(Read article summary)
'The Girl with the Dragon Tattoo' has grossed less than expected, but a Sony representative says the sequel is still happening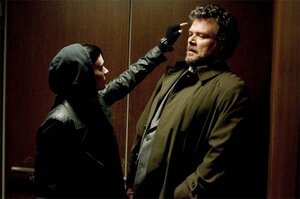 Merrick Morton/HOEP/Sony, Columbia Pictures/AP
It feels kind of weird to say that director David Fincher's adaptation of The Girl with the Dragon Tattoo has performed somewhat below expectations at the box office to date.
On the one hand, it's a $90 million project from a high-profile filmmaker that is based on an international best-selling novel that has only grossed $60 million in the U.S. so far; on the other hand, it's an extremely adults-only, R-Rated murder mystery full of graphic content and fatalistic atmosphere that's been generating excellent word-of-mouth. So, those financial returns are about as good as one could (reasonably) expect.
Nonetheless, there's been some question as to whether or not Sony is actively pressing ahead with an adaptation of the next installment in author Stieg Larsson's Millennium trilogy, The Girl Who Played with Fire, because of Dragon Tattoo's so-so box office performance. According to EW, that is in fact the case.
A Sony representative informed the publication that Girl Who Played with Fire remains on-target for a late 2013 release date. Dragon Tattoo leads Rooney Mara and Daniel Craig are likewise reportedly already signed on to reprise their roles as Lisbeth Salander and Mikael Blomkvist, respectively, in both the sequel and the (for now, theoretical) third franchise chapter, The Girl Who Kicked the Hornet's Nest.
---