Liam Neeson's 'The Grey' is a mostly satisfying action film
(Read article summary)
Liam Neeson's 'The Grey' has exciting fight sequences, but sometimes overextends itself.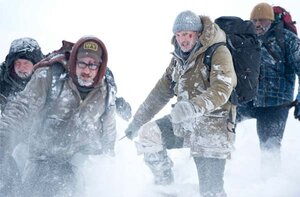 Kimberly French/Open Road Films/AP
When stylized action director Joe Carnahan (The A-Team and Smokin' Aces) began preparing a no-holds barred man-versus-nature film in the wilds of Alaska, more than a few cinephiles scratched their heads.
Then, when word began to spread that Carnahan's dramatic thriller film, titled The Grey, was being positioned as Oscar-bait for star Liam Neeson, while at the same time promising an intense and "horrific" survival story, potential moviegoers began to take serious note.
It's easy to see how The Grey collaborators ultimately affected the final onscreen result – as the film excels in a number of ways (tense and gripping life or death scenes as well as a noteworthy performance from Neeson) but also falls short in several others (such as character development). While plenty of filmgoers enjoyed Carnahan's A-Team and Smokin' Aces, there's no doubt that the over-the-top tone of those films would have been out of place in The Grey. As a result, it's encouraging to see the director stretch his comfort zone a bit – even if the final result isn't flawless.
The Grey follow the story of John Ottway (Liam Neeson), a deeply depressed hunter-guard at an isolated oil refinery in Alaska. Ottway is a rough around the edges type who spends his days traversing the perimeter of the refinery killing wild animals that, if unchecked, could threaten the plant's various workers. That is, until Ottway and an entire plane full of refinery employees (en route to Anchorage for leave) crashes in the middle of the Alaskan wilds. While most of the passengers die instantly in the crash, a few survivors emerge from the wreckage – only to discover that not only are they going to have to fight the elements to reach safety alive, they're being hunted by a pack of ruthless and unrelenting wolves. While a few of the men are initially skeptical of Ottway, the group ultimately agrees to follow him away from the plane wreckage and into the elements – in the hopes of finding safety.
---