'Mad Men': Season premiere excels with studies of each character
(Read article summary)
'Mad Men' returns after a long hiatus with uncertain futures for everyone at the fictional ad agency.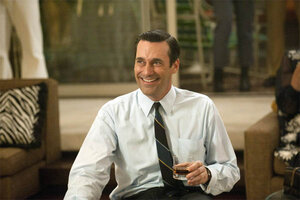 Ron Jaffe/HONS/AMC/AP
How big is the return of Mad Men? Well, after a 17-month hiatus, the proverbial red carpet has been rolled out for the two-hour season premiere. There has been non-stop media coverage of the arrival of Don Draper (Jon Hamm) and the rest of Sterling Cooper Draper Pryce. Everyone is seemingly in on the game, trying to pick off a piece of AMC's flagship program and let the world know how aware they are of a program so innately self-aware.
Creator Matthew Weiner has offered almost nothing beyond an enigmatic image of Don Draper staring through a storefront window at a pair of mannequins, so it's ironic that a show telling the story of ad men is effectively utilizing the media's interest inthe secrecy of season 5 to sell the premiere.
At the onset of this season, we're unsure just what will be waiting for us once the curtain is finally pulled back on 'A Little Kiss,' parts 1 & 2. Season 4 certainly left more than it's fair share of questions that have gone unanswered long enough. Has Don gone through with his proposed marriage to Megan Calvet (Jessica Paré)? Did Joan (Christina Hendricks) have, or is she still carrying Roger Sterling's (John Slattery) child? And, most importantly, where does Sterling Cooper Draper Pryce stand after being dealt the blow of losing its primary moneymaker in Lucky Strike?
---