Bruce Willis in 'G.I. Joe: Retaliation': Looks like a fun summer movie (+trailer)
(Read article summary)
Bruce Willis, Dwayne Johnson and others team up to stop the Cobra forces in the summer sequel.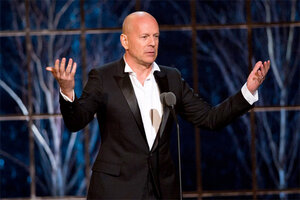 Charles Sykes/AP/File
Despite the influx of G.I. Joe: Retaliation posters and images over the past few weeks, fans have grown increasingly (and audibly) restless about the wait for a new trailer. Just in the nick of time, another theatrical promo has been released for the second Joe live-action movie (see above), offering a succinct outline of the story featured in the (semi-)rebooting sequel, an extended look at the film's renovated cast in motion – and a better idea of what director Jon M. Chu meant when he said that Retaliation does not "discount" the events in Rise of Cobra.
Here's the million dollar question, though: will seeing this additional footage from Retaliation ultimately get the fanbase more excited – or diminish anticipation for the film?
As you've undoubtedly picked up on by now, Retaliation "wipes the slate clean" by having most of the G.I. Joe squad slaughtered during a surprise attack ordered by Cobra spy Zartan (Arnold Vosloo), impersonating the U.S. president. Judging by the latest trailer, Channing Tatum as Duke – who was essentially "the lead" in Rise of Cobra, could even be among the casualties.
---