Documentary filmmaker Albert Maysles discusses his film 'Salesman'
(Read article summary)
The filmmaker says humanizing the experience of people in a documentary is essential.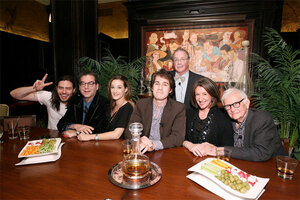 Casey Rodgers/AP Images for Algonquin Hotel
I have been very lucky to see Albert Maysles speak at several discussions after viewing his collaborative work with his late brother David, and Tuesday night, I was captivated again upon my first screening of the Maysles Bros. classic, Salesman, by not only Albert and David Maysles, but also Charlotte Zwerin, which follows four door-to-door Bible salesmen: Paul "The Badger" Brennan, Charles "The Gipper" McDevitt, 
James "The Rabbit" Baker, and Raymond "The Bull" Martos. The quartet first start out in Boston, then go to Chicago for a sales conference, and end in Miami, all the while trying to convince people to buy the world's best selling book. Although their customers are mostly middle, working-class Catholics recommended by the local church, the Bible is a hard sell for them. Though made and released almost 45 years ago, Salesman seems just as relevant now given how unemployment has risen in recent years during the recession, and how certain politicians are salesmen or saleswomen themselves, looking to religious values to push their agendas and influence voters.
---