'Hatfields & McCoys' stars talk about the central love story
(Read article summary)
'Hatfields and McCoys' stars Lindsay Pulsipher and Matt Barr talk about the star-crossed lovers they portray.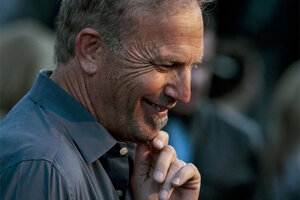 Bret Hartman/Reuters
As a special dramatic presentation, History Channel is airing the 6-hour mini-series HATFIELDS & MCCOYS over three nights in order to tell the violent and labyrinthine story of two families whose personal feud led to one of the largest government-sanctioned manhunts in U.S. history.
The love story of Roseanna McCoy and Johnse Hatfield is one of the brightest and most heart-warming aspects to an otherwise dark tale of deceit, betrayal and burning hatred; and but for the entrenched and intractable animosity between their families, their love story could have healed the terrible wounds and perceived wrong-doings allowing future generations to live in peace. Instead, the terrifying tale of the HATFIELDS & MCCOYS marks a turning point in history when men were law unto themselves and family obligations came first, no matter how strong your love for another. It was a testament to how destiny struggled with the will of man — and it cost everyone dearly.
In exclusive interviews, stars Lindsay Pulsipher and Matt Barr shared what it was like bringing the story of the star-crossed lovers Roseanna and Johnse to life for this epic mini-series.
Roseanna had quite the love story threaded throughout the mini-series. What drew you to playing such a complicated character?
LINDSAY: I really loved Roseanna's character arc. She really has a full spectrum. She starts in one place and really ends up in a completely different place, mentally and physically. And it was really interesting for me to have this soft character amongst all this feuding and fighting and oppression. It was so nice to have that breath of fresh air with her character.
---