Jena Malone is considered for a pivotal 'Hunger Games' role
(Read article summary)
Jena Malone is being considered for an important role in the 'Hunger Games' sequel 'Catching Fire,' according to reports.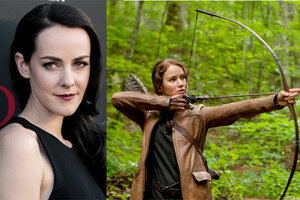 L: Bret Hartman/Reuters R: Murray Close/Lionsgate/AP
The Hunger Games: Catching Fire is easily one of the most anticipated films of 2012, which is why it's no wonder that so many young actors are vying to join the franchise. After opening to strong critical praise, The Hunger Games earned more than $660 million worldwide. Who wouldn't want to get in on some of that action?
Late last month, we shared the news that Taylor Kitsch (Battleship), Garrett Hedlund (TRON Legacy), and Armie Hammer (The Lone Ranger) were in talks for the fan-favorite role of Finnick Odair. Today, we have some news to share about another fan-favorite character: Johanna Mason.
According to an exclusive report from Entertainment Weekly, actress Jena Malone (Sucker Punch) is being considered for the important role of Mason in the sequel. For those who haven't read the books, Mason is a former Hunger Games victor from District 7, who won by pretending to be weak and then slaughtering the other combatants.
Malone isn't the only actress allegedly in talks for the part. Model Zoe Aggeliki was recently rumored to be a contender for the role and actress Kristen Bell has made no secret of her desire to star in the movie as well. That said, Malone wouldn't be a bad choice for the part (although she doesn't quite match the way I pictured the character in my head).
---