'666 Park Avenue': A show worth watching this fall
(Read article summary)
'666 Park Avenue' isn't the most original show, but its likeable cast makes it appealing.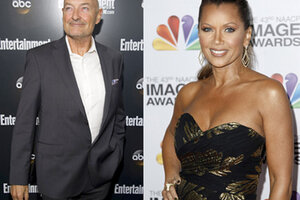 L: Charles Sykes/AP R: Matt Sayles/AP
You've seen the commercials. You've heard the hype. Now there's only one thing you want to know: Which of the new fall shows are worth watching and which should be avoided at all costs? In this continuing series, we give you the scoop on some of the most highly-anticipated shows of the season, with today's subject being ABC's 666 PARK AVENUE.
The Boilerplate: Since these pilot presentations may go through numerous rewrites and casting changes prior to premiere, this by no means should be considered an official review. Rather a preview of what one can expect come Fall.
The Plot: At the ominous address of 666 Park Avenue, anything you desire can be yours. Everyone has needs, desires and ambition. For the residents of The Drake, these will all be met, courtesy of the building's mysterious owner, Gavin Doran (Terry O'Quinn). But every Faustian contract comes with a price. When Jane Van Veen (Rachael Taylor) and Henry Martin (Dave Annable), an idealistic young couple from the Midwest, are offered the opportunity to manage the historic building, they not only fall prey to the machinations of Doran and his mysterious wife, Olivia (Vanessa Williams), but unwittingly begin to experience the shadowy, supernatural forces within the building that imprison and endanger the lives of the residents inside.
---