Captain America: 'Hurt Locker' actor may sign on for sequel
(Read article summary)
'Hurt Locker' actor Anthony Mackie may sign on for the movie titled 'Captain America: The Winter Soldier.'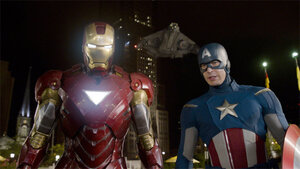 Disney/AP
Marvel is fresh off a successful appearance at Comic-Con 2012, where the studio premiered several mouth-watering items for its geek fanbase. That included: Edgar Wright's Ant-Man test footage, an Iron Man 3 sizzle reel, confirmation on a Guardians of the Galaxy movie arriving in 2014, and new titles for its sequels, Thor: The Dark World and Captain America: The Winter Soldier.
Fans has been speculating that Captain America 2 would include the Winter Soldier storyline for quite some time, going back to when it was announced that Sebastian Stan had signed a multi-picture deal with Marvel to portray Steve Rogers' brother-in-arms Bucky Barnes (who became the aforementioned brain-washed, cybernetic super assassin, in "Captain America" vol. 5, #1, released in 2005).
Heat Vision has learned that Anthony Mackie is in negotiations to appear in The Winter Soldier as Sam T. Wilson (a.k.a. Falcon). The character was introduced in "Captain America" #117 in 1969, and is the first full-blown African-American superhero featured in mainstream comics (preceding Luke Cage by nearly three years).
---