'The Dark Knight Rises': 10 things to know before seeing the film
(Read article summary)
'The Dark Knight Rises' is long and a little overwhelming. Here are 10 things you need to keep in mind before seeing it.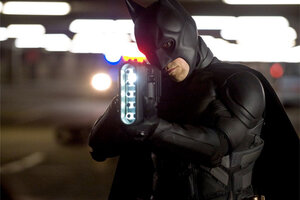 Ron Phillips/Warner Bros. Pictures/AP
With The Dark Knight Rises (TDKR) arriving in theaters nationwide , thousands of fans are eager to see how the Christopher Nolan Batman trilogy ends. Some of us at Screen Rant have already seen the film - read our official Dark Knight Rises review - and are eager to hear your opinions on it.
In the meantime, we wanted to offer you a list of 10 things you should know about the film before you see it. There are a few plot details mentioned here, but the list offers nothing that will likely SPOIL your enjoyment of the film.
These facts will simply serve to prepare you for TDKR before you experience it yourself....
Long Runtime
TDKR clocks in at two hours and forty-five minutes. In other words, it's a long film. Both of its predecessors clocked in at over two hours, but this one nearly clocks in at three.
Of course, the film has multiple objectives that prolong its running time. The film seeks to wrap up the trilogy in a satisfying fashion and introduce several new characters that play vital roles in the story. Aside from the villain Bane (Tom Hardy), the film introduces us to several major characters like Selina Kyle (Anne Hathaway) and John Blake (Joseph Gordon-Levitt).
---