'Dexter' stars preview the new season
(Read article summary)
'Dexter' actors Michael C. Hall, Jennifer Carpenter, and others discuss their upcoming season.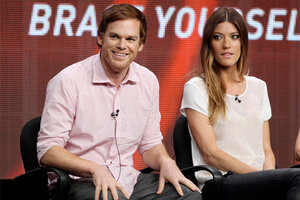 Matt Sayles/Invision/AP
3:14PM: "I have been looking forward to it, very curious as to how they would write it, yet also terrified about it," Jennifer Carpenter says in response to an opening salvo from a reporter asking for her gut reaction to Deb finding out about Dexter's extra-curricular activities at the end of last season.
3:16PM: Sad But True: Dexter coming out as a serial killer does make an endgame for the series a little more palpable and imminent. At least according to star Michael C. Hall who elaborates, "I think the plan is to do this season and a final eight season and really tell the story of the two of them negotiating their relationship in this new landscape. That much time feels about right."
3:17:PM "This is without a doubt the most fundamentally game changing development as we've had since we've started telling this story," explains Hall. "It has been so invigorating to play these scenes and to be preoccupied in ways that Dexter has never been. In a show's seventh season no less, it's pretty remarkable."
3:18PM: Jennifer Carpenter believes that dropping her script and swearing in the middle of her audition is what won her the part of Deb!
3:19PM: "I play Hannah McKay, who comes into the story in episode three," reveals Yvonne Strahovski of her first post-CHUCK role. "She crosses paths with Dexter when she begins to help the Miami Police Department on a cold case. Suffice it to say, her dark past will slowly be revealed as the episodes go on."
---