'New Girl': Who's signed on to play Jess's parents?
(Read article summary)
'New Girl' has signed two actors to play the parents of Jess (Zooey Deschanel).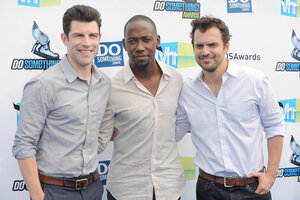 Jordan Strauss/Invision/AP
It's time to meet the parents responsible for the quirky cuteness that is Jess Day (Zooey Deschanel) on New Girl, as actress Jamie Lee Curtis and actor/director Rob Reiner have been tapped to play her parents in season 2.
The actors will appear in the series' Thanksgiving episode as Bob and Joan Day – Jess' divorced parents whose passion she'll try to reignite in a Parent Trap-esque scenario. Currently, it looks like both Reiner and Curtis will only be stopping by for the one episode, but a return for the both of them down the line hasn't been ruled out.
Curtis – primarily known for such popular films as Halloween and True Lies - will be appearing on New Girl fresh off a multiple-episode arc on CBS' NCIS as Dr. Samantha Ryann, a potential love interest for Special Agent Gibbs (Mark Harmon). In a recent interview, Curtis stated that she would be returning to NCIS at a later date.
---