'Star Trek' footage will come to IMAX theaters in December
(Read article summary)
'Star Trek' footage will arrive exclusively in IMAX theaters next month. The 'Star Trek' sequel was partly filmed using IMAX cameras.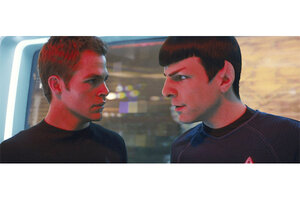 Reuters
Sci-fi fans are still eager to discover what J.J. Abrams and writers Alex Kurtzman, Roberto Orci and Damon Lindelof have done with the sequel to 2009 Star Trek reboot, which we now know will be titled Star Trek Into Darkness. Abrams jokingly premiered a single frame of footage from the film during a recent talk-show segment – but we're pretty sure that annoyed more people than it amused. After several delays and a thick fog of mystery clouding things, suffice to say that Trekkies the world over are starving for some substantial reveals.
Well, that hunger will soon be sated, as we now learn that an extended preview of Star Trek 2 will be shown to moviegoers in December 2012 – and it will showcase the film's new digital IMAX 3D format.
Check out the official press release from Paramount:
WORLD PREMIERE EXTENDED PREVIEW OF J. J. ABRAMS' "STAR TREK INTO DARKNESS" TO DEBUT IN IMAX 3D ON DECEMBER 14th
THE FIRST 9-MINUTES FROM THE ANTICIPATED SEQUEL WILL BE RELEASED EXCLUSIVELY IN DIGITAL IMAX 3D THEATRES WORLDWIDE
HOLLYWOOD, CA (November 14, 2012) – Paramount Pictures will release the first 9 minutes from J.J. Abrams' eagerly-awaited "STAR TREK INTO DARKNESS" exclusively in IMAX 3D months prior to the film's official release in May 2013. This first-look at the movie will play in approximately 500 digital IMAX 3D theatres beginning December 14th.
"STAR TREK INTO DARKNESS," the sequel to Abrams' 2009 hit film that redefined the Star Trek universe for a new generation, marks the first time exclusive footage has played in IMAX 3D and only the third time a first-look will be released in IMAX.
---