Paul McCartney to front Nirvana for a benefit concert?
(Read article summary)
Will Paul McCartney fill the role of Kurt Cobain for a Nirvana reunion? Representatives won't confirm anything, but rumors say the group will perform a new song with the former Beatle.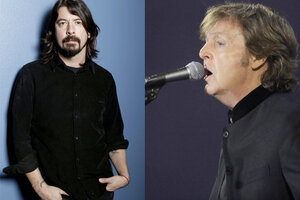 L: Matt Sayles/AP R: Jorge Adorno/Reuters
As if Nirvana partially reuniting wasn't enough for some music fans, the band will reportedly have a rock legend stepping in for lead singer Kurt Cobain: Paul McCartney.
Nirvana's remaining members are set to reunite for a concert scheduled for tonight that will benefit victims of Hurricane Sandy and will take place at Madison Square Garden in New York. The surviving members of the band, current Foo Fighters singer and former Nirvana drummer Dave Grohl, former Nirvana bassist Krist Novoselic and somewhat honorary member guitarist Pat Smear, who toured with the band in the six months before lead singer Kurt Cobain's death in 1994, will all take the stage.
According to the Guardian, the group will be playing a new song with McCartney, not a Nirvana classic. The Guardian reported that McCartney was the one to suggest doing something new.
---