'White Christmas': People create holiday magic for others
(Read article summary)
The movie 'White Christmas' isn't just a holiday classic because Bing Crosby croons that title song. Check it out for an example of a holiday movie with no supernatural elements, no sudden miracles – just people making something kind of magic happen for others.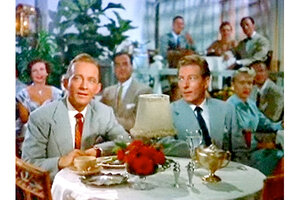 Don't get me wrong: I'm a big fan of holiday magic.
Many classic stories feature otherworldly behavior and happenings, such as the title character flying through the air with the other reindeer in "Rudolph the Red-Nosed Reindeer" or an angel coming down to Earth to help George Bailey realize he wants to live in "It's a Wonderful Life." The holiday season, it seems, is as much about blurring the line between our world and others as it is about a pine tree or a menorah.
But in my holiday movie viewing, I'm also a fan of movies where average, everyday people make something kind of special happen for others – and that's why I love the movie "White Christmas."
Now, I think this movie is a pretty acknowledged classic, but I also come from a family that owns the 1938 movie "Bringing Up Baby" on both VHS and DVD, so I recognize that our film preferences may run a little older than most. In case younger generations aren't familiar with the 1954 film, "White Christmas" follows Bob Wallace (Bing Crosby, he who you have heard singing the title song on the radio a million times) and Phil Davis (Danny Kaye), buddies who served under the same general during World War II. At the end of the war, they begin performing together in nightclubs and get fairly famous. They meet two sisters who also work in entertainment, and the four head up to Vermont to a scenic inn. But – surprise! – the inn is run by Bob and Phil's old general, who's not doing too well financially and is feeling a bit left behind by life.
---