Jay-Z will reportedly score 'Gatsby' for director Baz Luhrmann
(Read article summary)
Jay-Z will create the score for 'The Great Gatsby,' according to an announcement by musician and filmmaker Jeymes Samuel.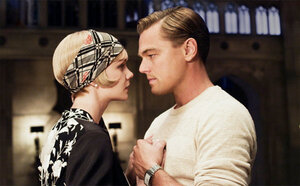 Courtesy Warner Bros. Pictures
If you have seen or are familiar with Baz Luhrmann's previous work, then you also know he has an interesting penchant for scoring his period-piece films with popular modern tunes. His 2001 musical Moulin Rouge, set in the early 1900s, featured the classic Madonna tracks "Material Girl" and "Like a Virgin", and his 1996 film Romeo + Juliet boasted the Radiohead song "Talk Show Host" and Everclear's "Local God" (among plenty of other rock songs) – so it comes as no surprise that he's gone modern with the music again on The Great Gatsby.
The Jay Z and Kanye West track "No Church in the Wild" is featured in both the first theatrical trailer and the second for Luhrmann's film adaptation of F. Scott Fitzgerald's classic American novel, creating a surprisingly suitable audio backdrop for the film's stunningly gorgeous and grand visuals. The period drama set to modern hip-hop certainly stood out, becoming one of the most memorable parts of the trailer, and now we are learning that media mogul and hip-hop artist/producer Jay Z will actually be scoring the entire film.
---