'S.H.I.E.L.D.' TV show: How fan favorite Coulson could return
(Read article summary)
'S.H.I.E.L.D.' is supposed to feature the return of Agent Coulson – here are a few of the likeliest ways ABC will bring him back.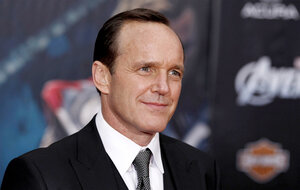 Matt Sayles/AP
There has been plenty of speculation regarding the upcoming Joss Whedon S.H.I.E.L.D. TV series – specifically in regards to the show's plot and whether or not well-known comic book characters will make an appearance; not to mention the question of how the series will be linked to the Marvel movie universe.
While Marvel has previously stated that the pilot will be part of their "Phase II" storyline, they have now officially confirmed the that series will take place after the Avengers movie timeline – but will consist of its own self-contained stories.
In a recent interview with IGN, ABC President Paul Lee had this to say about S.H.I.E.L.D.'s place in the Marvel Universe:
"There is no question that it is part of the Marvel Universe. In fact, the story takes place after the battle for New York.This is S.H.I.E.L.D. They're following their own particular stories. There are characters in it, Coulson, who clearly come from Avengers. So it's part of the world, but we're going to be very, very careful that we don't tread on the toes of the features and build a whole new world. And that's what Joss Whedon does better than anybody else. He's built a world for us."
That being said, the real question on fans minds is this: If the S.H.I.E.L.D. pilot takes place after the Avengers and deceased fan-fav Agent Phil Coulson (Clark Gregg) is set to return, how will the character be resurrected?
---