'Hansel & Gretel: Witch Hunters': What are the reviews saying?
(Read article summary)
'Hansel' has had a troubled production history and is an admittedly out-there twist on an old fairy tale. How are critics liking the film?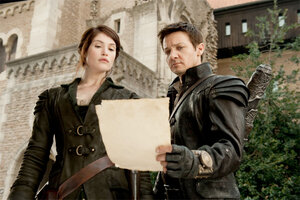 David Appleby/Paramount Pictures/AP
Fairy tales are still hot commodities in Hollywood, which is undoubtedly one of the reasons behind a new film starring Jeremy Renner and Gemma Arterton, "Hansel & Gretel: Witch Hunters." In the new spin on the story, Hansel and Gretel are all grown up and harboring a grudge against witches like the one who took them captive and was planning to eat them (seriously, fairy tales are way more grim than you remember).
The two siblings are protected from witches' curses, making them uniquely qualified to take on those who are causing problems. They work as bounty hunters who take care of witchy problems, and in this particular story, Hansel and Gretel take on a group of them led by lead witch Muriel (Famke Janssen).
"Hansel" has experienced a somewhat troubled production history, with its release date originally scheduled for March of last year. It was then moved up to earlier this month, Jan. 11, and then switched again to Jan. 25. A statement from the movie's studio, Paramount, suggested that the second change took place to enable the movie to be released in IMAX.
"The Imax experience continues to be the most immersive and entertaining way to see films and we are thrilled to be releasing Hansel & Gretel: Witch Hunters 3D now in late January so moviegoers have an opportunity to see the film in this way," Paramount president of domestic marketing and distribution Megan Colligan told the Hollywood Reporter.
---