Valentine's Day: Sometimes Hollywood's best love stories don't have happy endings
(Read article summary)
Two of Hollywood's most beloved romances don't have a neatly wrapped conclusion before the credits.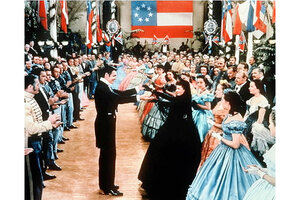 New Line Cinema/AP
There is possibly nothing more famous about Hollywood romance than the happy ending – the moment where someone runs after someone else in the rain, or heedlessly runs through security at the airport, or says "Follow that cab" (that would be fun to say) and catches up to the other person just in time and delivers a declaration of love and everything is resolved.
So it's to their credit that two of pop culture's favorite romances in movies are two stories where the central couple doesn't end up together at the end.
One, the 1942 movie "Casablanca," is often called one of the best movies of all time and stars Humphrey Bogart as cynical club owner Rick Blaine and Ingrid Bergman as Ilsa Lund. Rick and Ilsa met in Paris, just as the Nazis arrived to take over, and hit it off immediately. Rick asked her to leave the city with him and she agrees, but when the time comes to meet at the train station, she's nowhere to be found. Cut to WWII-era Casablanca, where Rick serves drinks to desperate refugees who are trying to get to America, and one night… well, you know how it goes. "Of all the gin joints in all the world, she had to walk into mine." Ilsa arrives at Rick's with her husband, Victor, but she's still very clearly in love with Rick. Will Rick, who doesn't "stick his neck out for nobody," betray Victor and take Ilsa for himself?
At the end, he almost fools you – until that famous plane is behind them and Rick convinces Ilsa to go with Victor so Victor will have the heart to carry on with his importance resistance work that might help topple the Nazis.
---