'Revolution' recap: What will that character's death mean for the show?
(Read article summary)
'Revolution' returned from hiatus with a new episode which saw viewers bidding goodbye to a central character. 'Revolution' airs on NBC.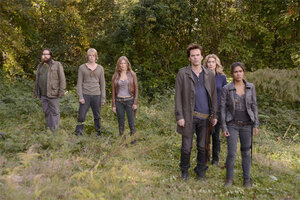 Brownie Harris/NBC/AP
After a four-month hiatus and several assurances by both series creator Eric Kripke and J.J. Abrams that the second half of would be superior to the first, Revolution has returned, leaving many to wonder if the time off allowed the writers the chance to fine-tune various elements of the show that needed some attention and excise the parts that were simply not working.
The first thing that comes to mind when watching 'The Stand' is the fact that the show seems to have done away with the rather unnecessary introduction that attempted to sum up the series in just a few sentences and then ended with "we're hoping someone will come along and light the way." Perhaps it was absent only because this was the big return from hiatus, but with any luck that segment won't find its way back.
With the intro out of the way, Revolution picks up right where it left off at the end of 'Nobody's Fault But Mine,' canceling any thought that there might have been some kind of jump to usher in some significant structural changes to the series. But in keeping with some of Kripke's comments at PaleyFest, the episode manages to deliver an explosive moment early on as the helicopter that was facing down Miles and the rest of the core group chases them into an abandoned diner and promptly blows it up.
---