Amy Poehler SNL: The former cast member returns for a 'Really!?!' segment with Seth Meyers
(Read article summary)
Amy Poehler returned to 'SNL' for the May 18 season finale to riff on the IRS scandal with former deskmate Seth Meyers. Amy Poehler appeared on 'SNL' from 2001 to 2008.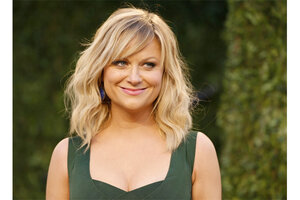 Danny Moloshok/Reuters
Former "Saturday Night Live" cast member Amy Poehler returned to the show – and her old "Weekend Update" desk – to contribute to a segment with her "Update" deskmate Seth Meyers.
Poehler and Meyers reprised their "Really!?! with Seth and Amy" routine for a skit on the recent IRS scandal.
Loud cheers in the studio greeted Meyers introducing the segment and Poehler making her entrance. "Are you ready to jump back into it?" he asked Poehler, who then tried out a few different indignant "Really?"s.
"You got it, you got it," Meyers told her.
The "SNL" head writer, who will be taking over "Late Night" host Jimmy Fallon's job, called the IRS "less popular with Americans than exercise."
"Don't get me wrong," Meyers said. "I understand that even if you do your job perfectly, IRS, no one is going to give you a Gatorade shower, but you got to try a little harder."
"The government only keeps you around to make the DMV look good," Poehler added.
---