Nik Wallenda: Two interns view his Grand Canyon stunt live
(Read article summary)
Nik Wallenda made headlines around the world when he crossed a channel of the Grand Canyon on a tightrope. Nik Wallenda's stunt was viewed by many via the Discovery Channel and online video.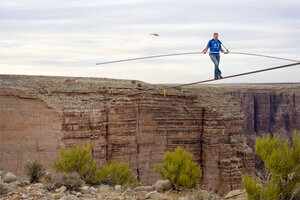 Tiffany Brown/AP Images for Discovery Communications
Last night, tightrope walker Nik Wallenda crossed a 1,400-foot wide channel of the Grand Canyon in just under 23 minutes, a stunt that was viewable online and through the Discovery Channel. The tightrope walk, which stretched over a distance long as four football fields and 1,500 feet above the canyon floor, was watched by many, including celebrities like Carrie Underwood and Piers Morgan. Two of our interns, Colby Bermel and Casey Lee, watched it live. Here's what they thought.
Colby Bermel: Casey, I thought this was a really cool experience overall. Nik Wallenda obviously did something really bold, and it was fun – is that the right word? – to watch him walk on the wire from all the different camera angles.
Casey Lee: It was amazing! I feel like we hardly get to see dangerous stunts pulled off anymore, with all the waivers you have to sign for everything these days. But this was great entertainment! Of course, I'm only saying that now because I know he got across OK.
Colby: Yeah, when he walked across Niagara Falls last year, he had to be cabled in at the last minute. But just to clarify for our readers, he was NOT hooked in to anything when crossing the Grand Canyon at a height that's the equivalent of the Empire State Building! Yowza! And this was all live – but there was a ten-second delay, probably in case anything did happen.
Casey: He crossed the Niagara Falls, too?! Kudos to this guy, but I think he might be a little bit crazy. I couldn't believe he wasn't hooked up to anything. The way his shirt was billowing, it must have been so windy up there!
Colby: He was wearing bootcut jeans. Bootcut jeans!
Casey: Right? I can't even move in my jeans in day-to-day life, let alone trapezing across the Grand Canyon. What about those cameras? No. 4 was my least favorite (secretly my most favorite!).
---