Despicable Minions have heart and humor, but 'Despicable Me 2' has a weak story
(Read article summary)
'Despicable Me 2' stars Steve Carell as the voice of former villain Gru. 'Despicable Me 2' is the sequel to the 2010 film.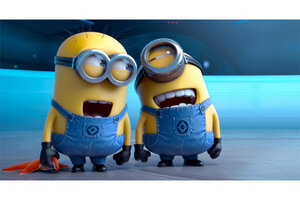 Universal Pictures/AP
In Despicable Me 2, we see that former super-villain Gru (voiced by Steve Carell) has settled into the routine of fatherhood, which includes throwing princess-themed parties for his three adopted daughters – Agnes (Elsie Fisher), Edith (Dana Gaier) and Margo (Miranda Cosgrove) – and having Dr. Nefario (Russell Brand) and Gru's army of Minions spend their time making a new brand of jam, rather than weapons or gadgets for nefarious purposes.
Gru winds up being kidnapped by Lucy Wilde (Kristen Wiig), who is an agent for the Anti-Villain League: a secret global organization that specializes in stopping master criminals who are bent on world domination, as presided over by the snooty Silas Ramsbottom (Steve Coogan). At first, Gru refuses their request to help track down a mysterious figure who is responsible for stealing a dangerous mutating chemical compound (by using a giant magnet). Old habits die hard, though, and soon Gru's back in the game – only this time, he's saving the world.
---