Summer movie season: Which films ruled over the box office?
(Read article summary)
Labor Day's almost here, and that means the summer movie season has just about come to a close. Which movies came out on top at the box office?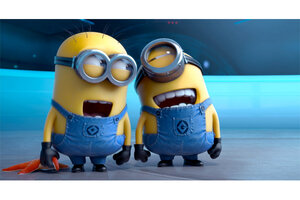 Universal Pictures/AP
Labor Day approaching means it's almost time to pack away the beach chairs and get that last ice cream cone, but in movie world, it also signifies the competitive summer blockbuster season is drawing to a close.
While there are always misfires as movie studios rush to release their tentpole films during a time of the year when no one's in school and everyone's desperate for air-conditioning, some films came out on top. Now, the week before Labor Day, we can take stock. Here are the movies that were crowned kings of the box office. (We counted summer as lasting from Memorial Day weekend until Labor Day, though the Labor Day weekend box office may push one of these movies off the list.)
5. "World War Z"
The movie, which came out on June 21, puts Brad Pitt at the center of a zombie infestation when his character Gerry Lane, a former investigator for the UN, has to figure out what's caused the pandemic. The film is based on the book of the same name by writer Max Brooks and grossed more than $198 million, according to the website Box Office Mojo. Critics were lukewarm – "Z" currently has a score of 63 on the review aggregator website Metacritic.
4. "Fast & Furious 6"
"Fast," which was released on May 24, had cast members Paul Walker, Vin Diesel, Dwayne Johnson, Michelle Rodriguez, and Jordana Brewster return as a group of criminals who face off with Luke Evans as villainous former military man Owen Shaw. Despite its domestic box office haul of more than $238 million, it received a middling response from critics, with the film scoring 61 out of 100 on the review aggregator site Metacritic. However, it's already done better at the box office than its precedessor, "Fast Five," which brought in more than $209 million in domestic ticket sales.
---