Robert Redford: What role is he really playing in the 'Captain America' sequel?
(Read article summary)
Robert Redford revealed some interesting information about his role in the 'Captain America' sequel which will be released this April. Robert Redford is also starring in the film 'All Is Lost.'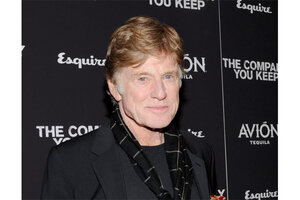 Evan Agostini/Invision/AP
The team assembled for Captain America: The Winter Soldier just keeps getting bigger and bigger. Already boasting a cast rivaling that of The Avengers, Robert Redford is without question the most distinguished of the pack. It certainly came as a surprise when Redford was signed not only to appear in Captain America 2, but in what appeared to be a relatively small role. A great get for Marvel, and an actor capable of playing the head of a shadowy government organization with plenty of class and grandeur.
But as actors unfamiliar with the spoiler-sensitive nature of comic book films often do, Redford has opened up about his role in the next Captain America, revealing more than Marvel likely wishes he had.
In an interview with The Straits Times (courtesy of Here Be Geeks), Redford spoke at length about his career to this point, and the need to constantly challenge himself as an actor. Appearing in a comic book blockbuster definitely fits that bill, even if he would only appear as a superior to Col. Nick Fury (Samuel L. Jackson) as a higher-up in the S.H.I.E.L.D. agency.
Now it seems new information regarding his role in the film, and what it could mean for the overall plot and inclusion of source material from the "Winter Soldier" story arc has arrived. Those not wanting to be spoiled should stop now.
*
**
***
SPOILER WARNING
***
**
*
In the interview, Redford explained that he sees no reason to slow down just yet; in fact, there's no time like the present to try roles or films he might not have in the past:
---