'American Horror Story': The show seems to be treading water until the finale
(Read article summary)
'American Horror Story' has been inconsistent this season and the newest episode shows that the writers seem to be focusing more on what out-there storyline they can throw into the show next rather than on crafting a cohesive overarching plot. 'American Horror Story' airs on FX.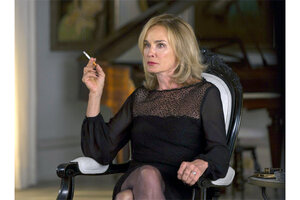 FX/AP
One of the primary advantages of doing a television series in an anthology format is the opportunity for characters and the narrative to flow in practically any direction, as the series is not beholden to a greater sense of continuity, nor are characters bound to their future story in seasons down the road. There's a freeing sense of impermanence knowing that the storyline of a particular season is only going to last 13 episodes, and in that time, there's really nothing that can't be done (or undone, as is the case with American Horror Story: Coven) to serve the needs of the larger story. As with anything good, however, there always comes a warning that too much of a good thing can be bad for you, or the proverbial pendulum can swing back viciously in the other direction.
'The Magical Delights of Stevie Nicks' makes for an excellent example of the series experiencing an overload from the supposed good qualities that spring forth from its unique format. All season long, Coven has been in search of a main thrust that might align its various characters and give them something to do. That means there have been quite a few episodes that seemed to be trying different meaningful plot threads on, only to discard them when something newer or more interesting came along.
To the show's credit, it hasn't completely abandoned anything; the throughline of the search for the new Supreme, Fiona's cancer and various relationships, and a mixture of vague or sometimes overtly clumsy, subtextual elements about motherhood, sexism, racism, and ageism have generally been present at one point or another. But while these elements have mostly been there, more often than not, there comes the feeling that they are being draped over an amorphous idea of a plot, rather than a fully formed one.
---