Scarlett Johansson praises the 'dark' and 'cerebral' script for 'Avengers' sequel
(Read article summary)
Scarlett Johansson recently praised the script for the 'Avengers' sequel, which she said is 'smart' and 'doesn't feel like a rehashing.' Scarlett Johansson recently starred in the movie 'Her.'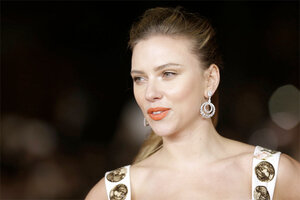 Alessandra Tarantino/AP
It won't be easy for Joss Whedon to top the success of The Avengers with the film's 2015 sequel The Avengers: Age of Ultron. But if he's going to do it, it's going to start with a great script.
Fortunately, early indications are that the fan favorite writer-director has delivered (at least if you listen to one of the stars of the movie). In a recent interview, Scarlett Johansson (a.k.a. Black Widow) praised the script, calling it "dark" and "cerebral."
Speaking with Parade Magazine (via ComicBookMovie.com), Johansson said the script for the sequel "feels like the next installment" as opposed to a rehashing.
"I think the script is dark and it's dry, it's got this amazing one-liner, glass-cutting sense of humor. Obviously the script is very cerebral. It doesn't lose that exciting comic book aspect that people enjoyed in the first film, but it's smart and it feels like the next installment. It doesn't feel like a rehashing, it feels like these characters are moving forward, plotlines are moving forward. It's deep and I think that's why people really respond to the Marvel universe, because the films are fun and exciting and have all that flashy stuff, but there's a gravity to them. People can expect that gravity this time around."
---