Experience World War I in 'real time'
Letters from a British soldier posted as a blog have gained a huge following.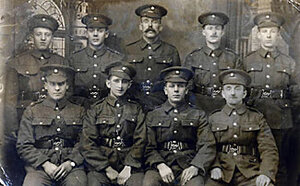 Courtesy of Bill Lamin
When Bill Lamin was 12 and discovered his grandfather's World War I letters in a desk drawer, he didn't care much about them. It wasn't until 2006, when he uncovered those same letters as he was clearing out the family home after his mother passed away, that he couldn't stop reading. Entranced by his grandfather's writings about the war 90 years earlier, Mr. Lamin, a retired math and Internet technology teacher from Praa Sands, England, wanted to share them with the world.
But publishing a book was costly, and he wasn't sure if his grandfather's letters merited a book. So he had another idea: He posted the letters online in hopes of attracting World War I history buffs.
The site (http://wwar1.blogspot.com) attracted few visitors at first, but gradually more people started reading "WWI: Experiences of an English Soldier," reliving the war through the eyes of Mr. Lamin's grandfather, Pvt. "Harry" William Henry Bonser Lamin.
It's constructed as a blog, updated with postings of Harry's letters corresponding to the current date. Since Lamin's first blog post in February 2007, readers have been following Harry's letters about his travels – describing the sights he sees, the people he encounters, and his experiences in the trenches.
The letters were the only form of communication between Harry and his family back home in Britain. Now, some website visitors experience the same anxiety or longing for a letter as they await news from Harry to be posted.
---